TASAI News – May 2019

Welcome to TASAI's quarterly newsletter, where we share updates about our work and opportunities to engage with us on all things African seed systems-related.
SEVEN NEW TASAI STUDIES TO BE RELEASED SOON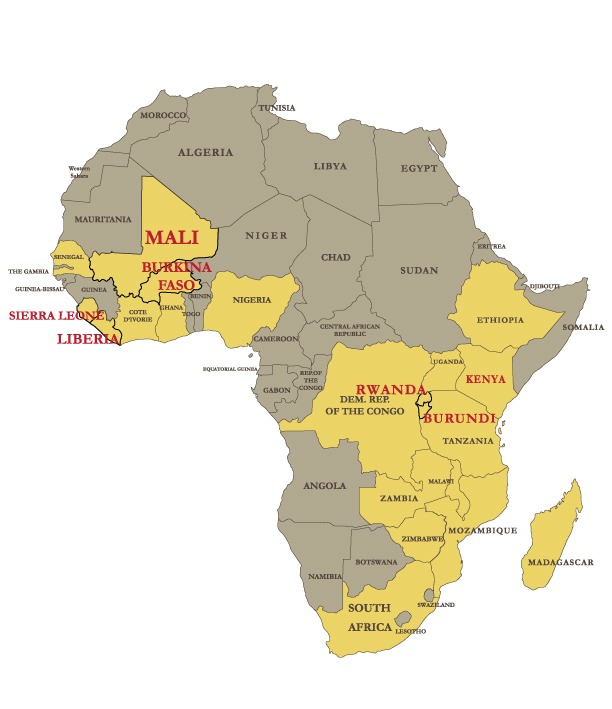 With support from the African Development Bank (AfDB) and the Alliance for a Green Revolution in Africa (AGRA), TASAI's coverage will extend to 21 countries in 2019, expanding TASAI's footprint to over half of Sub-Saharan African countries – and growing the number of funding partners to 8. By June, we plan to release seven new country reports for Burundi, Burkina Faso, Kenya, Liberia, Mali, Rwanda, and Sierra Leone. Prior to their release, TASAI will convene dissemination workshops in each country, inviting stakeholders in the seed industry to critique the findings. Our team will also work with the Ministries of Agriculture, national seed authorities and national seed associations to identify priority issues as countries work to achieve a vibrant and competitive seed sector. Keep an eye on our events page for dates!


STAK-TASAI KENYA VALIDATION WORKSHOP

On May 21, 2019, TASAI, in close collaboration with the Seed Trade Association of Kenya (STAK), convened a workshop to discuss and critique the findings of the TASAI Kenya country study. The well-attended meeting brought together 69 participants from the government, private sector seed companies, research institutions, farmer organizations, and other key seed industry stakeholders. The event was opened by Dr. Oscar Magenya, the Director of Agricultural Research in the Ministry of Agriculture, Livestock, Fisheries and Irrigation, who noted the TASAI findings highlight both the positive and negative aspects of Kenya's seed industry, and reiterated the Ministry's commitment to providing the right policy framework for a competitive and vibrant seed industry in the country. Having collected valuable feedback from a variety of stakeholders, the TASAI team will finalize the Kenya brief, which will be available for download on tasai.org by end of June.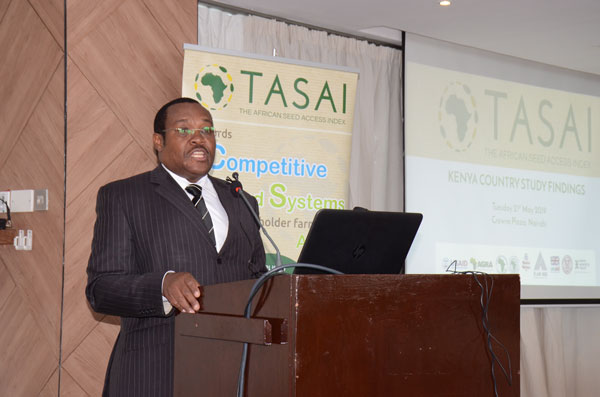 Dr. Oscar Magenya from the Ministry of Agriculture, Livestock,
Fisheries and Irrigation gave opening remarks.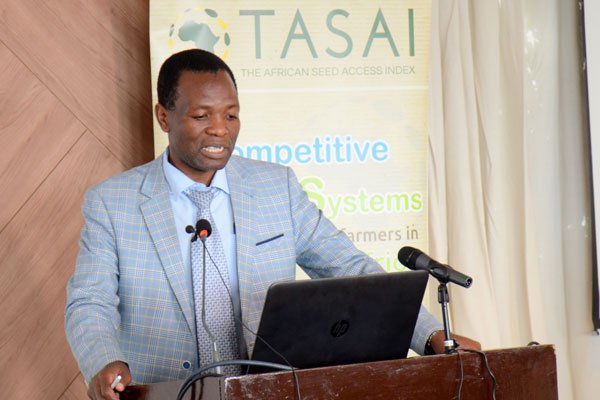 Dr. Claid Mujaju shared relevant experiences
from Zimbabwe's seed industry.
TASAI MALAWI FINDINGS RELEASED
On February 19, 2019, TASAI convened a meeting to discuss the findings of the TASAI Malawi study. Held in partnership with the Seed Trade Association of Malawi and the Centre for Agricultural Research and Development of the Lilongwe University of Agriculture and Natural Resources, the meeting was attended by over 30 seed industry participants from the private sector, government, research institutions and development partners. Dr. David Kamangire, Deputy Director of Research, Department of Agricultural Research Services in the Ministry of Agriculture, Irrigation and Water Development opened the meeting. In addition to discussing the TASAI findings, participants also listened to a presentation by Dr. Claid Mujaju, Head of the Seed Services Institute in Zimbabwe. Dr. Mujaju shared relevant experiences of the seed industry in Zimbabwe and provided an overview of how SSI is structured, its key services, how the organization has approached key issues like the challenge of counterfeit seed and the regional harmonization of seed regulations.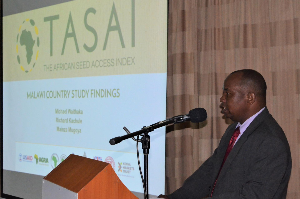 Dr. David Kamangire of the Ministry of Agriculture
opened the meeting.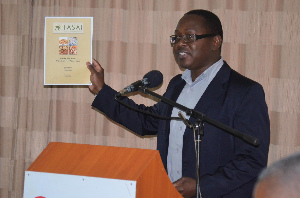 TASAI Program Coordinator Mainza Mugoya shares
the Malawi study findings.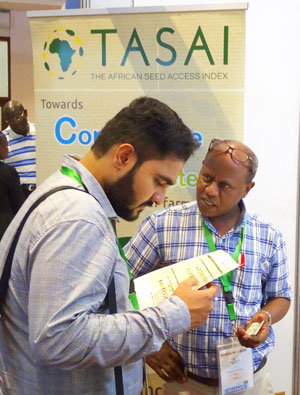 (left) TASAI Principal Investigator Michael Waithaka at the TASAI booth at the AFSTA Congress in Mombasa
AFRICAN SEED COMPANIES AT AGRICOL
Representatives of five seed companies paid a visit to the premises of Agricol, a South African seed company, at their head office and storage facility at Brackenfell, Western Cape, South Africa. Representing Kenya, Malawi, Mali, Tanzania, Uganda, the seed companies were all attending the annual Making Markets Matter (MMM) agribusiness training program. Agricol produces certified seed for various types of crops including cereals (including maize, sorghum), legumes, pastures and turf grasses. The company has branches across South Africa, and it exports seed across Africa and Asia. The export destinations include Uganda for sunflower seed and Pakistan for sorghum seed, among others. The company has an internationally accredited seed laboratory in KwaZulu Natal province.
Christof Muller, Branch and Warehouse Mgr. introducing Agricol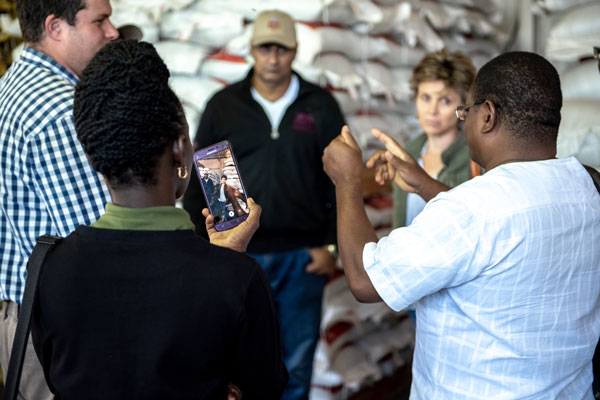 African seed companies at Agricol.